Grow Your Business and Boost Revenue with HubSpot: The Art & Science of Closing Deals Faster and Easier.
HubSpot sales automation and enablement tools empower businesses, small and large, to seamlessly integrate all their critical inbound marketing, lead generation, sales process, and customer service protocols into one easy-to-use platform.
HubSpot gets every member of your team "speaking the same language" with its robust suite of sales automation, sales enablement, and CRM tools designed to help sales, marketing, and customer service work together seamlessly to close more deals and generate more revenue.
What is Inbound Marketing?
Inbound marketing is a way of attracting and engaging your target audience with content that is meaningful, informative, and customized to the needs of that audience. It helps to establish your brand as a "go-to" expert in your industry, as well as foster long term relationships with leads and customers.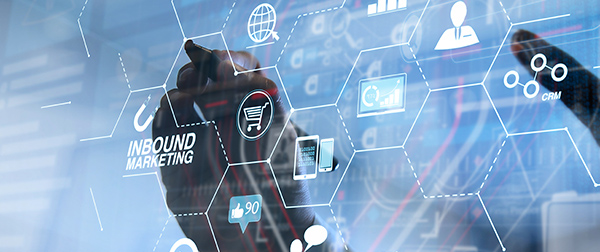 Inbound marketing content includes landing pages, blog posts, pillar pages, eBooks, case studies, videos, newsletters, email marketing, and any other content that enables you to nurture relationships and help your contacts.
What is Sales Enablement?
Sales Enablement Tools are simply the resources a company provides to its sales team to engage, convert, and close deals with greater ease and efficiency.
These resources include everything from websites and landing pages, to eBooks, blogs, white papers, pitch books, videos, newsletters, and customized emails, to name a few.
What Is Sales Automation?
Sales automation is the process of automating repetitive sales activities using software and AI. These automations allow sales teams to utilize sales enablement resources quickly, at the right time, and with the right people.
These automations can include the lead handoff between marketing and sales, lead assignment or rotation, task management, follow-up communications, and much more.
Creating Your Own Sales Enablement and Automation Strategy
Sales enablement strategies offer organizations the tools and processes they need to close deals faster, while marketing automation allows organizations to test, track, and measure the result of every marketing and sales asset.
Not sure whether your prospect opened and read your email or how long they've stayed on your blog post? How about which email message caused your lead or prospect to take action?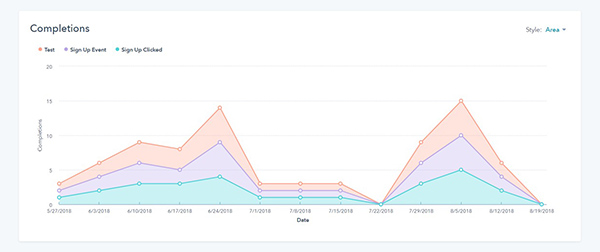 Tools like HubSpot tracking put you in the driver's seat by offering real-time reporting so you can see at-a-glance where the highest level of engagement and conversion is happening across your assets.
Seamlessly integrate and streamline your business while significantly impacting conversion and revenue with Sales Automation Tools.
HubSpot solves these critical performance issues by offering an all-in-one sales automation system that integrates essential business functions while tracking each customer through the entire marketing, sales, and customer service cycle.
In simple terms, platforms such as HubSpot align your marketing, sales, and service teams by:
Ensuring every time can access the same CRM data for improved context.
Synchronizing and automating processes and workflows.
Streamlining communications & handoffs between departments
Getting the right content in front of the right people at the right time.
Converting leads into happy customers with less effort.
Delighting customers into being powerful promoters of your business.
Keeping messaging and branding consistent.
Tracking the entire history of any contact, from their first web page view to their last customer service ticket.
Achieving measurable goals via real-time insights and reporting.
Tracking results, KPIs (Key Performance Indicators), and critical metrics across the entire customer lifecycle.
Using an integrated sales automation system, your business can simplify the entire customer journey and sales cycle by more efficiently attracting qualified leads, converting those leads into customers, and nurturing your customers into long-term relationships.
How 3 Teams Connect in HubSpot
HubSpot developed the Inbound Methodology as a way of successfully integrating the 3 core pillars of any organization, Sales, Marketing, and Customer Service, to create delightful customer experiences from beginning to end.
Historically, the customer lifecycle has been viewed as a funnel, with contacts moving downward until they reach the end. The flywheel (circular) concept revolutionizes the funnel by showing the never-ending experience your customers can have with your organization, long past the point of a sale.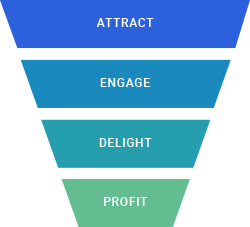 Attract – Sales
From managing and tracking ad campaigns and social media, to publishing content and landing pages, HubSpot helps firms attract leads by offering valuable content structured within a carefully planned user experience that encourages the lead to Engage.
Engage – Marketing
Firms must compete to engage with prospects and clients by producing and distributing quality content, such as market reports, educational articles, e-books, guides, blog posts, video, audio, and media appearances.
Delight – Customer Service
Keeping the "delight" stage going is very important as most financial services are extremely competitive with many customers perceiving limited differences in providers and pricing. A differentiated edge can be created using content. The "delight" stage provides customers with information, tools, and services that make it easier to conduct more transactions as well as solidify a client's loyalty through great experiences.
Top HubSpot Sales Functions
HubSpot solves some of the most common issues experienced by sales departments so your teams can spend more time doing what they do best - selling!
Common Sales Issue

HubSpot Feature that Solves Issue

Spending excessive time nurturing leads or having leads slip through the cracks.

Automate your client communications with customized email messages and follow-ups built into your queue so your leads never miss a message.

Let your automated messaging do the work!

Guessing if a contact opened or engaged with an email.

Email and document tracking allows you to know the second a lead opens an email and engages with documents.

Inefficiently going back and forth when scheduling meetings and sales demos.

Using meeting links, you can quickly allow contacts to book time on your calendar or provide one-click proposed meeting times.

Causing friction with customers by using outdated payment tools.

The payments tool helps you digitize payments, accelerate revenue growth, and empower your teams with secure, shareable, one-time and recurring payment links.

Losing out on deals with unprofessional quotes.

The deals' function helps you generate quick and polished quotes and send them when your products are top of mind to close deals faster.

Unsure how you're performing in all areas of sales.

Transparent and robust reporting allows your team to process analytics so you can forecast effectively and deliver exceptional results.

Unable to connect with prospects when away from the computer.

Keep up with contacts, tasks and deals with the mobile app while you're on the move or away from your desk.
Key HubSpot Sales Data Every Team Needs:
While not an exhaustive list, HubSpot provides key data and metrics that can help sales professionals analyze what's working, strategize and course correct, and optimize results:
Lead Data
Funnel reports
Productivity reports
Template usage
Document Tracking
Email opens and clicks
Meetings booked by rep
Source Data
Organic search
Referrals
Social Media
Email Marketing
Paid Search
Direct traffic
Other campaigns
Offline sources
Deal Data
Deal forecast reporting
Deal closed vs. goal
Deal leaderboard
Deal average time spent
Deal by revenue amount
Interested in learning about HubSpot Sales Hub plans?
Everything you need to capture leads and turn them into customers.
Starter
2 paid users included.
Free tools with increased limits, plus:
Remove HubSpot branding from:
Live chat
Meeting scheduling
Documents
1-to-1 email
Get help fast
Email and in-app chat support
Professional
5 paid users included.
Starter plus:
Manage Your Growing Team
Sales analytics
Teams
Sales automation
Record customization
Personalize Your Outreach at Scale
Email sequences
1:1 video messaging
Build Custom Reports
Enterprise
10 paid users included.
Professional plus:
Customize to Match Your Business
Custom objects
Hierarchical teams
Extend Administrative Controls
Coach & Enable at Scale
Sales analytics
Playbooks
Conversation intelligence
Predictive lead scoring
Hiring a HubSpot Partner Agency like Gate 39 Media might be right for your team if:
You need help getting set up with a new HubSpot account.
You need support optimizing an existing HubSpot account.
Your team lacks the time or bandwidth to function as your HubSpot point of contact.
Your company is entirely new to the HubSpot CRM or Sales Hub platform.
A third-party coach with a complete understanding of the platform seems like a helpful way to bring your team together.
You're committed to getting the most out of your HubSpot investment, but you're not sure where to start.
When working with Gate 39 Media, you can get precisely the help you need. From one-time onboarding session guidance to hands-on service for all your HubSpot team check-ins and training sessions, a partner agency like Gate 39 Media can customize the support that best suits your company's needs.
What are the critical components of successful HubSpot Onboarding?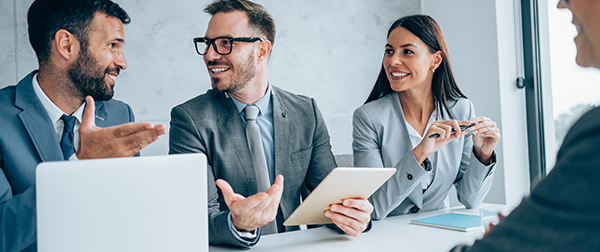 Gate 39 Media follows a proven modular process and timeline for onboarding and supporting new customers or existing HubSpot customers who need support. At Gate 39 Media, your HubSpot onboarding experience is customized for you and led by a friendly specialist who will guide you and your team through:
Onboarding
CRM Implementation
Marketing Hub Enablement
Sales Hub Enablement
Service Hub Enablement
Team Training
Marketing Automation
Lead Scoring
Conversion Path Development
Lead Nurture Drips
Blog RSS Newsletters
Template Development
Sales Enablement
Lead Handoff + Rotation
Prospecting Alerts + Optimization
Personalized Email Nurture Sequences
Sales Document Libraries + Tracking
Deal Pipeline Builds + Automation
Portal Audits
Data Integrity
Campaign Effectiveness
Email Marketing Strategy
Lead Funnel Optimization
Privacy + Consent Compliance
Service Automation
Live Chat
Automated Chat Bot Setup
Ticket Pipeline Build + Automation
Support Request Workflows
Knowledge Base Builds
Integrations
Salesforce + HubSpot
Zoom Webinars
Auto-Dialers
LinkedIn Sales Navigator
Custom API Connectors
6 Reasons to Partner with Gate 39 Media
Deciding to hire an agency can feel daunting. Here are just a few ways you can benefit from partnering with a dedicated agency.
Speciality Expertise

We've worked with many different organizations with various marketing and sales processes, which has enabled us to hone our skills and deepen our knowledge of HubSpot.

Industry Expertise

By specializing in the financial and agricultural markets, we don't just know how to support a HubSpot portal - we know how to support one for your specific business model.

Multiple Skillsets

You're not just hiring one person. With Gate 39, you get an entire team made up of specialty experts ready to support your goals.

Flexibility

Did your marketing goals change? Does your sales team want to launch a new outreach strategy? No problem! We have the ability to quickly pivot to keep things on track.

Less Risk

Hiring in-house can be risky. You've never sure if that new person is going to be worth the onboarding expense. With Gate 39, you can avoid the overhead and get right to work.

Results-Driven

Hiring in-house can be risky. You've never sure if that new person is going to be worth the onboarding expense. With Gate 39, you can avoid the overhead and get right to work.
Qualities to Look for in an Inbound Marketing & HubSpot Partner Agency
If you need to build brand awareness, generate leads, convert leads to sales, and strengthen customer satisfaction, here are 11 habits of a highly effective Inbound Marketing & HubSpot Partner agency that you should know:
An Inbound Marketing & HubSpot Partner Agency
that successfully serves businesses will…
Offer the Right Services

Hire a marketing agency that delivers the inbound services that matter the most.

Hire an agency with a solid, proven, and logical plan of attack.

Conducts a Goal-Oriented Sales Process

A marketing agency's pitch should be tailored to your business's specific challenges and goals.

Hire a firm that can cite itself as a case study.

Hire an agency with compelling examples of their Inbound Marketing prowess.

Showcases Their Specific Areas of Focus

Your agency should specialize, not generalize.

Teaches and Trains Your Internal Team

Hire an agency that knows how and wants to leverage your team's industry expertise.

Key Capabilities Reside Either In-House or With a Trusted Partner

Hire an agency that can explain how it does what it does.

Inbound Marketing is a serious production and the marketing agency you hire should want to run the whole show.

Places an Emphasis on Measurement

Agencies that measure everything succeed faster.

Values Transparency

Your marketing agency partner should want you to see everything that they see.
Learn How Gate 39 Media Can Help Your Business Accelerate Sales Results with HubSpot