Download our eBook for the latest list of cybersecurity Must Do's, Should Do's, and Could Do's along with Pro-Tips and a handy printable checklist to help your team optimize cybersecurity practices to help protect your business.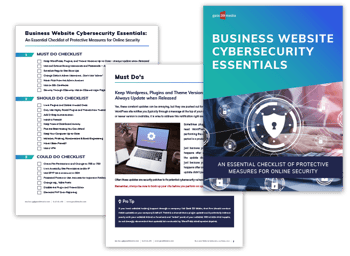 We dive into key topics including:
Passwords, plugins, themes, and software versions
Site backups, logins, and SSL certificates
Authentication, firewalls, and VPNs
Malware, ransomware, phishing, and social engineering
File permissions, data backups, and errors
And much more!
DOWNLOAD OUR FREE EBOOK NOW!
Yes, I want the Business Cybersecurity Essentials Checklist!